About Lemon Grove, California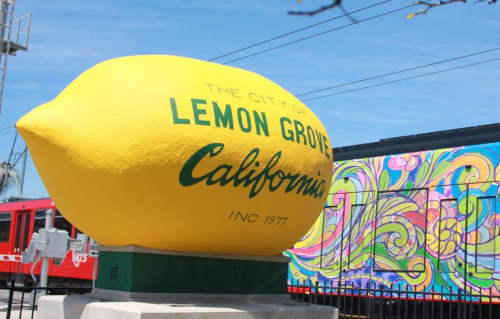 Lemon Grove is a city in San Diego County, California with a population of 25,320 at the 2010 census. From the 1860s to 1900 the area was known for sheep and poultry ranching and vegetable crops. In the early 1900s, the community acquired its name when large citrus groves were planted, and lemon and orange growing and shipping became the area's major industry.
Located to the east of the county, Lemon Grove provides convenient access to State Routes 95 and 125. Most people in the community rely on cars for their transportation needs, especially for runs to chain retailers in neighboring areas. In addition, one of the earliest forces which brought together the community of Lemon Grove was the school district. Today, Lemon Grove School District includes four elementary schools, two K-8 options, and one middle school. Students attend neighboring area schools to finish high school.
Weighing some 3000 pounds, and approximately 10 feet long and six feet wide, the lemon sculpture—affectionately known as the World's Biggest Lemon—sits on a concrete base at the corner of Broadway and Lemon Grove Avenue, adjacent to 3361 Main Street. It lies before a small lemon grove beside the Orange Line Trolley tracks near the local trolley station and downtown bus stop. Written across the base of this monument are the words "Best Climate On Earth". Designed by Lemon Grove architect Alberto O Treganza, the lemon was originally built as a parade float for the 1928 Fourth of July Fiesta de San Diego parade, carrying the town's first Miss Lemon Grove, Amorita Treganza, Alberto's 16-year-old daughter.