About Azusa, California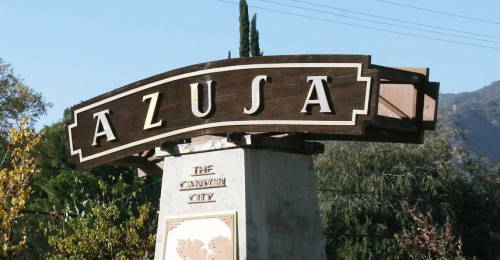 Azusa is a city located at the entrance to the San Gabriel Canyon, giving the city its nickname "The Canyon City." It is in the San Gabriel Valley, at the foot of the San Gabriel Mountains in Los Angeles County, California, United States. The population was 46,361 at the 2010 census. The City is situated along historic Route 66, which passes through the city on Foothill Boulevard and Alosta Avenue. It is bordered by the San Gabriel Mountains range to the north, Irwindale to the west, the unincorporated community of Vincent to the southwest, Glendora and the unincorporated community of Citrus to the east, and Covina to the south. The A on the San Gabriel Mountains represents the city of Azusa and can be seen within a 30-mile radius.
Azusa is one of Los Angeles County's oldest cities, founded in 1887 and incorporated 1898. 27 miles northeast of the City of Los Angeles, the region that calls itself the Canyon City, was once known for gold discovered in those very canyons. Gold was discovered in the San Gabriel Canyon in 1854, and a town named El Doradoville was built at the fork of the San Gabriel with some 2,000 occupant miners who had filed on gold claims along the east fork of the canyon.
Set in the foothills of the San Gabriel mountains that line LA basin, Azusa can be quite warm in the summer, and quite cool during the winter nights. Its range of temperatures and its proximity to Los Angeles are both assets for a city known as the home of high tech aeronautical firms.
Azusa is a fun place to visit and includes some great events such as the free Summer Concert Series and Halloween activities.