About Port Hueneme, California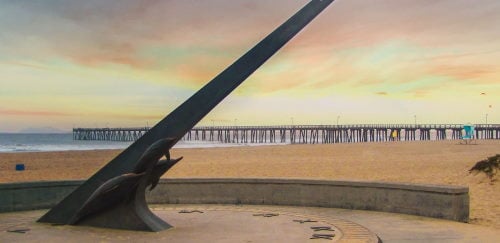 Port Hueneme is a small beach city along Ventura County's Gold Coast just south of the City of Oxnard and Channel Islands Harbor. The name derives from the Spanish spelling of the Ventureño phrase wene me, meaning "Resting Place". The town's name was officially changed to Port Hueneme in 1939 and was incorporated March 24, 1948. Port Hueneme is a unique community because of its rich history, culture, and traditions, dating back to the Chumash Indians who made their home here for centuries and because of its long-established, close relationship with the U.S. Navy's Port Hueneme and Point Mugu naval facilities.
Port Hueneme has a south-facing sand beach, known for its surfing. The beach has a wooden fishing pier and is about a mile long between Ormond Beach downcoast and Point Hueneme Light at the harbor entrance shared by the naval base and the port. The Waterfront Promenade, also known as the Lighthouse Promenade, provides a paved public access along the shoreline with two historic sites at viewpoints: the 1872 Wharf and the Oxnard Packing House.
The broad based economy of Port Hueneme has historically performed better than the average California community. Regionally, the economy is driven by five primary sectors: oil production, defense, manufacturing, agriculture, and tourism. Locally, the Naval Base Ventura County and deep water commercial Port of Hueneme dominate the economic landscape. The Port of Hueneme, shared with Oxnard Harbor District and Naval Base Ventura County, is the only deep water port between the Port of Los Angeles and the Port of San Francisco, and the only Navy controlled harbor between San Diego Bay and Puget Sound in Washington state. The harbor is a shipping and receiving point for a wide variety of goods destined for the Los Angeles Basin and beyond, including automobiles, pineapples, and bananas. Agricultural products such as onions, strawberries, and flowers are shipped.
Housing in Port Hueneme is affordable and convenient. The residents of Port Hueneme enjoy quality, coastal-community living for a remarkably reasonable cost – especially when compared to the high-priced communities both to the north and south of the City. In fact, Port Hueneme has the most affordable housing and broadest mix of dwellings in all of Ventura County. Residents have their choice of beachfront condominiums, contemporary single-family residences, and low-rise apartments.