About Bradbury, California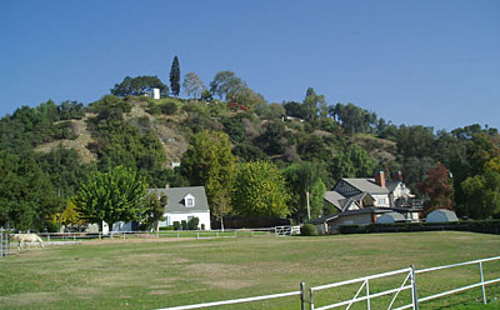 The City of Bradbury is a small, residential/equestrian-orientated community of approximately 1,000 nestled at the base of the San Gabriel Mountains below Angeles National Forest in Los Angeles County. Bradbury is bordered by the city of Monrovia to the west and south, and Duarte to the south and east. The population was 1,048 at the 2010 census.
Incorporated on July 26, 1957, the City is a true "contract city." It has a small full-time staff and contracts for many of the services provided to its residents. The community encompasses 1.9 square miles, and includes 3.2 miles of public streets and roads. The City has three distinct areas—the Bradbury Estates, which is a gated community consisting of 5-acre (20,000 m2) minimum estates; Woodlyn Lane, which is also a gated community with minimum 2-acre (8,100 m2) lots; and the balance of the city, which is not gated, which has lots generally ranging in size from 7,500 square feet (700 m2) to 1-acre (4,000 m2). A significant portion of the properties in Bradbury Estates and Woodlyn Lane are zoned for horses, and several horse ranches still exist within these communities today.
The City of Bradbury is known for its beautiful views of the San Gabriel Valley Foothills and rural atmosphere. Much of the city is zoned for agriculture and maintains open-space in the foothills through two and five acre minimums. Other areas of the city enjoy quiet residential streets which preserve the rural feeling that led to the city's founding. It is a General Law City operating under the City Council/City Manager form of government. The City Manager oversees all city functions.