About Artesia, California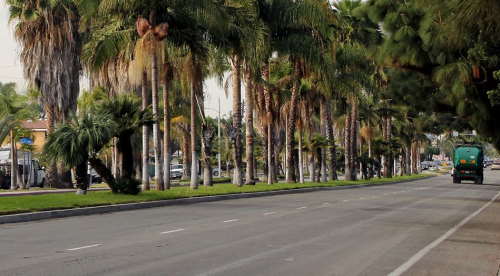 Artesia is a small town about 15 miles southeast of Los Angeles County, California. It was incorporated on May 29, 1959, and is one of Los Angeles County's Gateway Cities. The city has a 2010 census population of 16,522. It is surrounded on the west, south, and east sides by Cerritos, with Norwalk to the north. The City is home of the East West Ice Palace, an ice rink which is co-owned by Michelle Kwan. It was also the childhood home of former First Lady Pat Nixon, who lived there from 1914 to 1931, though the property on which she grew up is now part of neighboring Cerritos.
Artesia is also known as "Little India" as it is home to the second largest ethnic Indian population in the country, just behind New York City. There are a large number of Indian-owned stores and restaurants along Pioneer Boulevard in Artesia. Despite this concentration of Indian-owned businesses, Asian Indians made up only 7.9% of the population of Artesia in the 2010 Census.
One of the more familiar landmarks in the city is the Artesia water tower. The water tower can hold 50,000 gallons of water and was once owned by the Southern California Water Company before being sold to the City of Artesia in 1988. The tower was intended to be used only as a point of historical interest, and to provide a special identity to the community. Shortly after its purchase, the then green tower was quickly painted to its current color with the addition of the name Artesia painted on two sides. It sits on top of an artesian well; built in 1911. The Artesia water tower was also featured in the motion picture Freddy's Dead: The Final Nightmare in 1991 and was known in the film as the Springwood water tower. It was also featured in season 1, episode 17, "Didn't Pay Taxes", of the television show My Name Is Earl, in March 2006.