About Santa Monica, California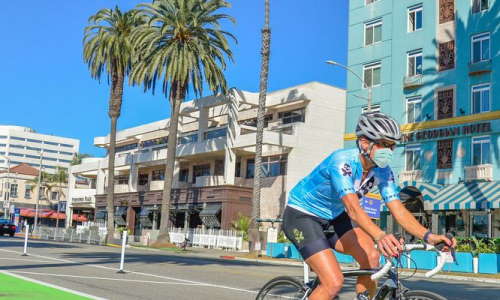 Santa Monica is a beachfront city in western Los Angeles County, California, United States. Situated on Santa Monica Bay, it is bordered on three sides by the city of Los Angeles – Pacific Palisades to the north, Brentwood on the northeast, Sawtelle on the east, Mar Vista on the southeast, and Venice on the south. More than 90,000 residents call Santa Monica home.
Due in part to an agreeable climate, Santa Monica became a famed resort town by the early 20th century. The city has experienced a boom since the late 1980s through the revitalization of its downtown core, significant job growth and increased tourism. The Santa Monica Pier remains an ever popular destination.
More than 7 million visitors a year come to Santa Monica because it is a renowned beach city (one of National Geographic's top ten) and close to other Los Angeles attractions. Santa Monica Beach averages more than 300 days of sunshine a year and offers some of the best sunsets on the West Coast. Santa Monica is also known as a walkable and bike-friendly town, so it's easy to get around and experience the haven of shops, restaurants, attractions like the Santa Monica Pier and Third Street Promenade, and more.
Santa Monica is home to the headquarters of many notable businesses, including Hulu, Universal Music Group, Lionsgate Films, the RAND Corporation, Beachbody, and Macerich. A number of game development studios are based in Santa Monica, making it a major location for the industry. Recently, Santa Monica has emerged as the center of the Los Angeles region called Silicon Beach, and serves as the home of hundreds of venture-capital funded startup companies.