About Irvine, California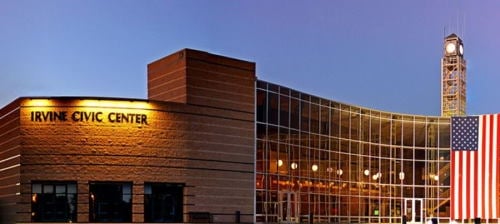 Irvine is one of the nation's largest planned urban communities and encompasses more than 65 square miles. Nestled in the valley between Loma Ridge to the north and the San Joaquin Hills to the south, Irvine thrives at the center of Orange County. In fact, location is one of Irvine's best features. Bordered by Newport Beach, Costa Mesa, Santa Ana, Tustin and Laguna Woods, the City of Irvine not only offers a great place for vacations or meetings, it's also a convenient gateway to some of the best attractions of Southern California. Many of those attractions, like Disneyland Park® and Knott's Berry Farm, are less than 25 miles away. And because Irvine is crisscrossed by Interstate 405 running roughly east-west, Interstate 5 as an inland parallel to the California coast, and Highway 55 (Costa Mesa Freeway) connecting the two, it offers easy access to all of Orange County's attractions, beaches and communities.
While Irvine lacks a traditional downtown, the Irvine Spectrum Center, complete with a Ferris wheel and movie theater, fills the square as a shopping and dining destination. The Orange County Great Park, built on a former marine airfield, hosts a weekly farmers market and outdoor movie nights, in addition to its flagship attraction: a massive orange balloon ride.
With more than 200,000 jobs in town, Irvine has nearly as many jobs as residents. Employers range from the University of California, Irvine, the largest in town, to nearly 200 Fortune 500 companies including Allergan, Taco Bell, Mazda of America, and Verizon to name a few. Plus, a rail system connects Irvine to commerce centers as far away as downtown Los Angeles.
Today, Irvine is a multicultural nexus of education, innovation, business, preserved wildlands, outdoor recreation, the arts and family-friendly communities with a population of nearing 300,000. Quality of life in Irvine is high, and it is consistently ranked as one of "America's Safest Big Cities".