About San Marino, California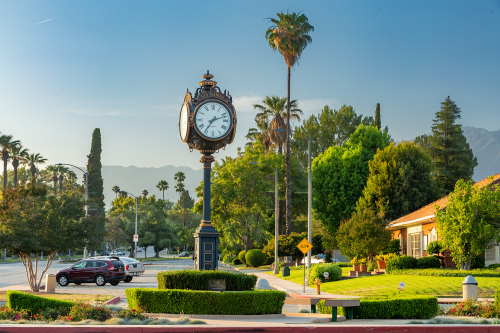 San Marino is a residential city in the northwestern San Gabriel Valley of California with a population of 13,147 as of the 2010 census. It was incorporated on April 25, 1913.
The City takes its name from the ancient Republic of San Marino, founded by Saint Marinus who fled his home in Dalmatia (modern Croatia) at the time of the Diocletianic Persecution of Christians. Marinus took refuge at Monte Titano on the Italian peninsula, where he built a chapel and founded a monastic community in 301 A.D. The state which grew from the monastery is the world's oldest surviving republic.
The San Marino seal is modeled on that of the republic and contains the three summits of Mt. Titano, upon each of which reposes a tower, fortified with walls built from native rock and capped with a bronze plume, all surrounded by a heart-shaped scroll with two roundels and a lozenge (of unknown significance) at the top. Underneath the left side is a graceful palm frond and underneath the right side, a branch from an orange tree. The crown representing the monarchy on the original was removed when the city's Coat of Arms was redesigned by William Hertrich in the 1920s.
The City celebrated its centennial in 2013, including publication by the San Marino Historical Society of a 268-page book, San Marino, A Centennial History, by Elizabeth Pomeroy. In September 2014, this book and author Elizabeth Pomeroy received a prestigious Award of Merit for Leadership in History from the American Association for State and Local History (AASLH).