About Santee, California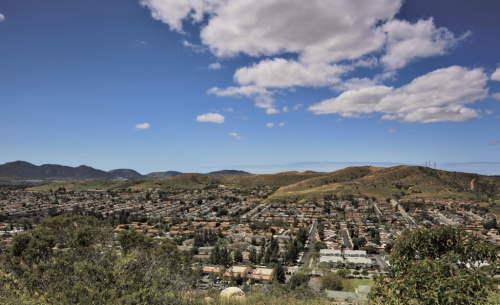 Santee is a growing and dynamic suburban city in San Diego County, California, with a population of 53,413 according to the 2010 census. It is ideally located between the Pacific Ocean and the mountains of the Cleveland National Forest. While Santee is considered part of the East County Region, the city is only 18 freeway miles from San Diego's premier beaches. The City is connected to the coastline by State Route 52, a six-lane freeway that runs from Interstate 5 in La Jolla to State Route 67 in El Cajon. State Route 125 also intersects with State Route 52, forming a transportation hub in the heart of Santee.
Originally known as Cowlestown in the late 1800s, its name was changed to Santee in 1893, after Milton Santee, a realtor and surveyor, married Jennie Cowles after the death of her first husband, George A. Cowles, a local landowner and vintner. It was officially incorporated as a city in 1980, and since that time it has continued to grow and mature. No longer just a bedroom community of homes, Santee now boasts major commercial centers in its downtown, a business community, which employs over 17,000, and significant recreational opportunities. Santee has nurtured a vibrant local economy by providing for a balance of retail, commercial and residential uses. The 700-acre Town Center district forms a downtown core comprising business parks, high-density residential and retail businesses that feed off the synergy of Santee Trolley Square shopping complex and the Metropolitan Transit System trolley station.
Surrounded on three sides by chaparral-covered hills, the city is bisected by the San Diego River. The river forms a linear greenbelt containing parks, trails and more than 1,100 acres of tree-lined riparian habitat. The City's picturesque setting is further enhanced by Mission Trails Regional Park, a 7,220-acre open space reserve that offers a permanent mountain view for Santee's western flank.
In 2010, the City of Santee had one of the lowest crime rates among cities in San Diego County. Unlike most of the county's coastal cities, Santee still has sizable portions of vacant land suitable for development. It is a growing suburban community that in recent years has added upscale housing, a major corporate business park and expansive shopping centers, along with a destination recreational complex called Sportsplex USA Santee. The Sky Ranch community lies within the City of Santee atop Rattlesnake Mountain on the eastern side of the city.