About Cudahy, California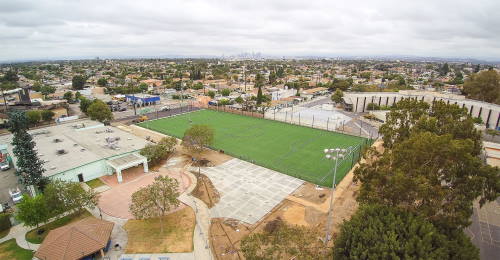 Cudahy, part of the Gateway Cities region, is a southern California City located in Los Angeles County. This region is known for its thriving industrial and manufacturing business sectors where city governments work together to promote a pro-business attitude. Incorporated in 1960, Cudahy has a land area of just 1.18 square miles making it the second smallest city within the county by land size after Hawaiian Gardens. However, Cudahy has one of the highest population densities of any city throughout the United States with a population of 23,805 as of the 2010 U.S. Census.
The City is bordered by Bell on the north, Bell Gardens on the east, South Gate on the south and southwest, and Huntington Park on the west. The 1-710 freeway provides easy access to downtown Los Angeles, coastal communities, and Orange County. Cudahy has transformed throughout its history from an urban feel where riding downtown on horseback was the norm to a blue collar town with manufacturing plants after World War II.
Being one of Los Angeles County's Gateway Cities, Cudahy provides employment opportunities in a variety of business sectors such as international trade, logistics & warehousing, trucking & transportation, aerospace, manufacturing, and tourism. The City's residents have a median household income of $38,267 which is higher than four of the five neighboring communities. Cudahy has a housing market considered to be healthy and has experienced an 18.8% growth in home value over the past year.