About Rancho Palos Verdes, California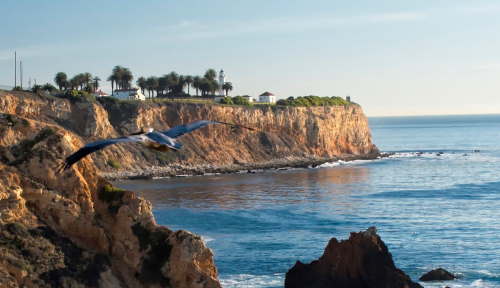 Rancho Palos Verdes, also known as RPV, is a coastal city located in Los Angeles County atop the bluffs of the Palos Verdes Peninsula, neighboring other cities in the Palos Verdes Hills, including Palos Verdes Estates, Rolling Hills and Rolling Hills Estates. Rancho Palos Verdes is known for its dramatic views of the Pacific Ocean, Santa Catalina Island, and Los Angeles, as well as for its highly-ranked schools, extensive horse and hiking trails, and expensive housing prices.
There are several miles of hiking paths all over Rancho Palos Verdes. Since everything is close to or within a residential area, most trails are generally well-maintained and well-marked. The City is said to have a true Mediterranean climate, with predominantly dry, temperate days. The surrounding chaparral and shrubs are vaguely reminiscent of other shrubby, coastal areas in far-off places like Spain, Italy and Greece, making for some truly unique California hiking.